CROSS THE GOLDEN GATE BRIDGE
Hop-On Hop-Off Sausalito Tour including Golden Gate Bridge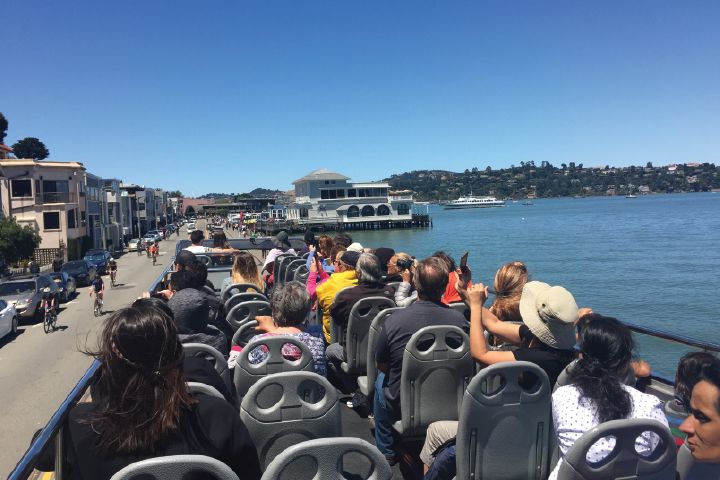 TOUR DESCRIPTION
This 60 minute fully narrated Hop On Hop Off tour includes crossing the Golden Gate Bridge on an open-top bus and the picturesque town of Sausalito overlooking San Francisco Bay.
MORE INFORMATION
Visit one of the world's most famous landmarks on our open top bus with live narration from our professional tour guides.
Highlights of the Sausalito Tour:
• Golden Gate Bridge – south : walk the bridge! We'll pick you up at the other side.
• Golden Gate Bridge – Vista Point : Golden Gate Bridge views, Vista Point, Marin Headlands, Fort Baker.
• Sausalito - San Francisco Bay Views, restaurants, shopping, galleries, transfer to Muir Woods Tour.
Hopping on this tour will take you across the 1.7 mile span of the famous "Steel Harp" Golden Gate Bridge. Not only will you have great photo opportunities of the San Francisco Bay and skyline from the open top bus while cruising across the bridge, you will have a chance to hop off and walk across the bridge. We stop at the North and South point of the Golden Gate Bridge to let you hop off and get up close and personal with San Franciscos' greatest landmark.
A friendly and knowledgeable tour guide will astonish you with all the things you will learn about the Golden Gate Bridge. They will share with you the incredible history of the Golden Gate Bridge: Its conception, creation and its place as one of the most recognized landmarks in the world.
Feel free to hop-off in Sausalito and wonder the streets of boutiques and art galleries, taste some true California cuisine or maybe even rent a kayak and paddle through the bay! When you are ready to head back to the Golden Gate Bridge, take one of our open top buses back across the Golden Gate Bridge. The bus will then return you to our Vista Point location where you started the tour.
The Sausalito tour lasts approximately 60 minutes and departs from South Vista Point every 1 hour.