de Young Museum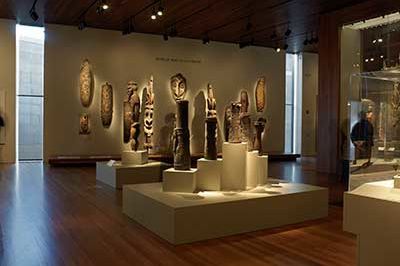 TOUR DESCRIPTION
Rebuilt in 2005, the de Young museum features American, African and Oceanic art from the 17th through the 21st centuries. Originally founded in Golden Gate park in 1895, the re-opening showcases integration of architecture, art and natural landscape within the museum grounds.
Address
50 Hagiwara Tea Garden Drive|Golden Gate Park |
Included
Entry to Museum
Not Included
Souvenirs
Hours of Operation
Tuesdays–Sundays, 9:30 am–5:15 pm
Fridays late March–November until 8:45 pm
Closed Monday
MORE INFORMATION
Located in San Francisco's Golden Gate Park, the de Young was originally a Fine Arts Museum constructed for the California Midwinter International Exposition of 1894. After undergoing sever damage from the 1906 and 1989 earthquakes, a newly rebuilt de Young Museum, designed by the Swiss architectural firm Herzog & de Meuron, opened in 2005. This new design allows you to take a stroll through the sculpture garden of historic elements from the previous de Young structure. The ninth-floor Observation Level of the de Young's Hamon Tower offers breathtaking 360-degree views of San Francisco and the Pacific Ocean.
Modern and Contemporary art
International Textiles and Costumes
Decorative Arts and Crafts
Priceless collections of American Art
6th visited art museum in North America